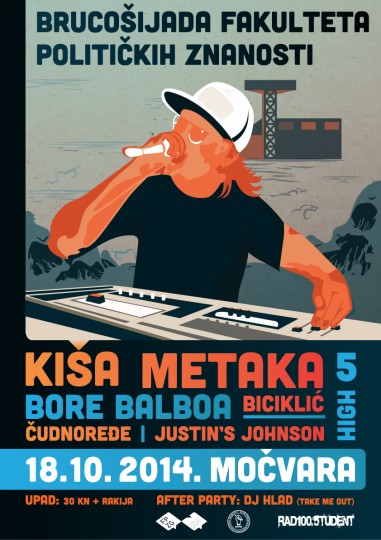 Svi vi koji ste mislili da smo na posljednjoj brucošijadi spojili nespojive žanrove – prevarili ste se, pazi sad ovaj line-up!

Ne znamo upće kako započeti sa opisima izvođača (i je li to uopće potrebno), a da to sve skupa ne izrodi tri toma teksta. Masu ih je, a i vjerujemo da ih većinu dobro poznajete, pa ćemo ih samo navesti i nadati se da ćete ih doći upoznati još bolje!

Nudimo vam malo čudnorednog eksperimentiranja sa rockom, panka a la Biciklić, plesnog mediteranskog Justin's Johnsons ska punk rocka i tvrdog i lažnog repa u opakoj kombinaciji Visokih5, Bore i Kiše Metaka. I onda vas iza svega toga ne puštamo doma jer mjuzu vrti DJ Hlad iz Take Me Out! kolektiva. Dosta dobro!
Upcoming events

Categories

Blogroll