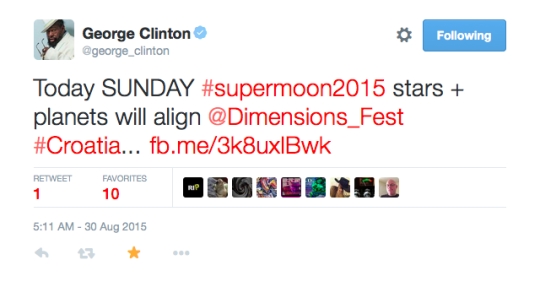 Danas, 30. kolovoza, u Hrvatskoj će po prvi put nastupiti veliki glazbeni inovator i kum funka – George Clinton, i to na zadnjem danu 4. Dimensions festivala.
Ekscentrični izvođač već četrdesetak godina oduševljava i zabavlja publiku svojim izborima kostima, frizura, perika, naočala… te nepredvidivim scenskim nastupima koji su često sadržavali dijelove Star Treka, gospela, dugih solo gitarskih dionica, smiješnih glasova posuđenih iz crtanih filmova, puno repanja i još više masnih šala. Njegov ulazak u Rock'n'Roll Hall of Fame 1997. godine samo je jedna od visokih počasti kojima je odlikovan ovaj beskrajno talentirani glazbenik, punokrvni zabavljač, revnosni komentator socijalnih pitanja i problema, ilustrator, slikar i modni znalac.
U prodaji je ostao još vrlo mali broj ulaznica za zadnji dan festivala, a one se mogu kupiti samo na festivalskim blagajnama, na glavnom ulazu, po cijeni od 250 kuna.
Više fotografija s festivala možete naći ovdje.