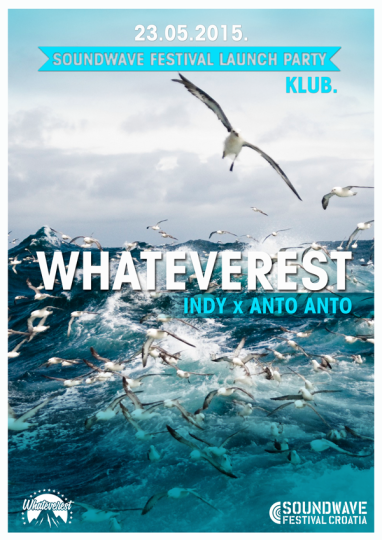 Odradili smo višestruke ekspedicije u nepoznato, odradili smo niz odličnih tuluma. Ugostili smo nekoliko sjajnih internacionalnih DJ-a, plesali smo, fleksali smo, a i popili smo (previše). S obzirom da je sezona planinarenja pri kraju, red je i da Whateverest ekipa ode na zasluženi godišnji odmor.

Posljednje druženje prije ljetnog raspusta zakazujemo za subotu, 23. svibnja u omiljenom nam Klub.-u. Uz to što je posljednji event sezone, idući Whateverest će ujedno biti i promo party Soundwave festivala.

Soundwave Croatia festival je koji će se ove godine održati po 7. put, i to od 6. do 10. kolovoza u Tisnom. Iz bogatog line-upa izvođača koji će nastupiti izdvajamo imena kao što su Jay Electronica, Slum Village, Mr. Scruff, LTJ Bukem, i mnogi drugi.

U skladu s proljetnom atmosferom, Whateverest DJ-i će istu večer odraditi warm up koji je na rasporedu od 20 h u Hostel Swanky Mint (Ilica 50). Ulaz na Whateverest warm up je besplatan.

Cijena ulaznice za Klub. je 10 kn u pretprodaji (Entrio.hr), te 20 kn na blagajni kluba od 01:00.