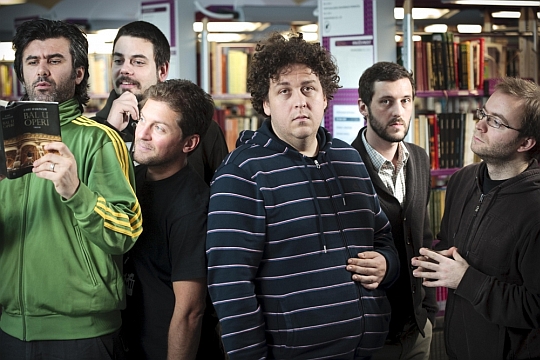 Fantastična splitska šestorka, THE BEAT FLEET, spustiti će zastor na kalendarsku klupsku sezonu u Zagrebu velikim koncertom u Tvornici kulture u petak 21. prosinca.

Ako je netko oduvijek pazio na svoje korijene i okruženje iz kojeg su došli, onda su to svakako TBF. Upravo zato band dolazi u Tvornicu na veliki klupski koncert i feštu uoči blagdanskog razdoblja, na svirku za koju će u prodaju biti pušteno svega 1.400 ulaznica.

Ulaznice u prodaju kreću u utorak 23.10. po promotivnoj cijeni od 70 kn i ta cijena traje do 11. studenog.
Od ponedjeljka 12. studenog cijena će iznositi 80 kn, a ukoliko karata ostane na dan koncerta, cijena će im biti 100 kn.

Prodajna mjesta:
Tvornica culture, Šubićeva 2
Rockmark, Berislavićeva 13
Aquarius CD Shop, Varšavska 13
Aquarius CD Shop, Maksimirska 16
Dirty old shop, Tratinska 22
Dancing Bear Shop, Gundulićeva 7
Dallas Music Shop, Tkalčićeva 7
Sva Eventimova prodajna mjesta i www.eventim.hr
UPDATE: ZBOG OGROMNOG INTERESA DODAN DRUGI KONCERT!
Kako je bilo i za očekivati nakon sjajnog početka prodaje, koncert TBF-a u zagrebačkoj Tvornici kulture u petak 21.12. je pred rasprodajom te se trenutno u prodaji nalazi posljednjih 300 ulaznica. Zbog ogromnog interesa dodan je novi koncert dan poslije, u subotu 22. prosinca.
Sudeći po trenutnom tempu prodaje, oba koncerta biti će rasprodana, a ukoliko se to dogodi, neće biti dodavanja trećeg koncerta.
Povodom novog datuma u Tvornici, a prigodno upravo na Svetog Nikolu Dallas Records i LAA vam poklanjaju besplatan download novog singla TBF-a UVIK KONTRA koji će se od 6. prosinca u podne pa do ponedjeljka, 10. prosinca također u podne moći skinuti sa sitea www.dallasmusicshop.com.